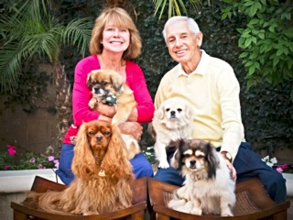 My Philosophy & Background
"It is my love of animals that causes me to constantly seek a higher quality of service in all the areas of my business." -Jan Reagan, Certified Pet Aesthetician
My love of dogs began in 2000. While playing golf I was paired with a father and son who actually lived on the golf course. Their home is on the 16th hole of the golf course and I met Max who was in the backyard with Mrs. Anderson and Mr. Anderson's sister who was visiting from Ireland. Max was a two month old Tibetan Spaniel (breed that is not actually a Spaniel) and it was love at first sight! My passion for dogs has continued to grow since that moment. I have had three Tibetan Spaniels and a Cavalier King Charles Spaniel after never having had a pet. I showed Tibetan Spaniels in various dog shows throughout California and several other states as well. One of my dogs is a finished champion. While volunteering and walking the dogs at the shelter in Irvine, I started bringing combs and brushes and gradually was given permission to groom the dogs. My passion for dogs evolved from showing dogs, to volunteering at the shelter and finally to grooming which I discovered was my passion and what I wanted to pursue.
I am Certified in Salon Details through International Professional Groomers, Inc. and I am a graduate of the Certified Pet Aesthetician Program through Iv San Bernard USA. I successfully completed the knowledge and skill evaluations for the Emergency Care and Safety Institute Pet First Aid and Disaster Response Course. Read more about my certifications HERE.
I interned on Saturdays for a year in a pet salon and day care facility. My intention at the time was to fill the void of not having a groomer at the Irvine Animal Care Center. If the dogs are clean and groomed it increases the chance of their having a shorter stay in the shelter and finding their forever home.
In 2012, I retired after 30 years of working in the real estate industry, which included owning an escrow company and a Intermediary Tax Deferred Exchange Company for 16 years. I decided to shake things up a bit and combine my love for dogs and passion for the art of pet styling and decided to open a salon. I wanted to provide a gentle, safe, non-rushed, pampered environment for dogs. I continued my education and attended an advanced grooming course for two months at Amber's Academy of Pet Styling in Corona, CA. This included two days a week in a mobile grooming van and three days a week in the pet styling salon. I was personally trained by Amber Lewin who is an award winning certified Master Groomer. Amber has a very successful business which includes a salon, pet hotel, mobile grooming and a customized mobile van business.​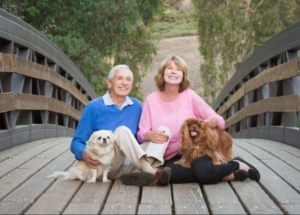 I then completed a Professional Pet Grooming Apprenticeship Program where I worked one on one with my mentor Kris Perez, who is an International Certified Master Groomer through International Professional Groomers, Inc. We groomed 30 dogs together. This program is designed to help grooming school graduates learn more refined and intricate skills and techniques to better prepare them for a professional grooming career.
I participated in the Pet Adoption Makeovers at the America's Family Pet Expo in each of the past two years. I am a Member of the California Professional Pet Groomers Association and the International Professional Groomers, Inc.
I donate my time and services to the OC Animal Care in Orange and the Irvine Animal Care Center where I have been a volunteer for the past several years.
I continue to work on my grooming skills by attending workshops, trade shows, pet styling sessions, watching videos and taking one on one workshops with some of the best groomers in the industry. I have attended the annual Barkleigh Groom & Kennel Expo trade show in Pasadena and the Superzoo Trade Show in Las Vegas since 2012 where I attended all day workshops presented by the top groomers in the country and internationally. I work toward the highest standards in pet styling, I stay current with industry trends and continue to improve my skills as a professional pet groomer with continuing education. It is an ongoing learning experience and I am enjoying the challenge. I want the dogs to be safe and cared for and to actually look forward to their grooming experience. I also continue to strive to have my grooming salon to be state-of-the-art.
"To do what you love and feel like it matters, what could be more fun?" Katharine Graham
I humanely treat all animals entrusted in my care, and place their welfare above all else. I show compassion and integrity when dealing with these pets, ensuring their safety and health. I focus on quality and a calm environment. Working on a limited number of dogs at a time helps to lower the stress on both the dog and the groomer. I do not put dogs in cage dryers or in kennels. All this means is that dogs leave happy and are happy to come back to visit, play and get gorgeous. I look forward to making your pets day at the spa relaxing and rejuvenating.
Pet owners are expected to advise their groomer of any health issues or changes in health at every appointment for the utmost safety of the pet and also for the groomer!
Treat your dog to a day of pampering with our pet grooming and skin care services from our pet spa in Irvine, California.
Our hours of operation depend on the number of appointments we have for the day. We are by appointment only so book today!
ARE YOU READY TO HAVE YOUR PET SPOILED? Contact Jan today!