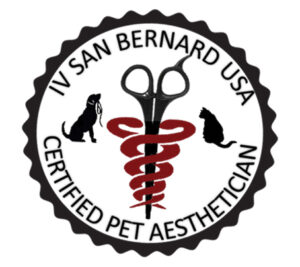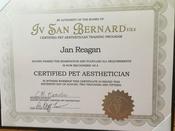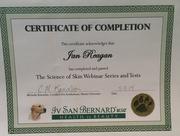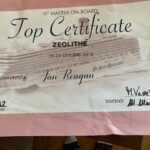 ISB Certified Pet Aesthetician
Certified Pet Aesthetician through Iv San Bernard USA
What is a Certified Pet Aesthetician? Only a handful of groomers in the country can boast this particular pet skin and hair therapy certification. After months of study and application, Jan can successfully treat skin conditions such as allergies, bacterial infections, fungal infections, parasites and much more using an eco-friendly, pet safe products from Iv San Bernard Fine Italian Pet Products.
What makes a Certified Pet Aesthetician different from your average groomer? A Certified Pet Aesthetican has gone through stringent training including learning The Science of Skin as well as applications in a medical environment. Certified Pet Aesthetican studies include not only skin and hair health but also how to treat skin conditions, medical & dermatological terminology, proper records keeping and creating working relationships with veterinarians.
Following this training the students are required to finish their certification at Animal Health Services Surgical and Diagnostic Center in Cave Creek, AZ working in the therapeutic spa as well as hands on training with the veterinarians and Certified Veterinary Technicians. After passing an in-depth written test the groomer is presented with their official certificate recognizing them as a Certified Pet Aesthetician.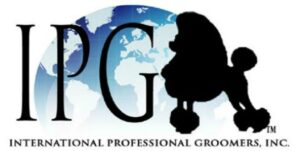 IPG
Certified in Salon Details through International Professional Groomers, Inc.
Certification in Salon Details is awarded to Salons or mobile units with owners and employees having fulfilled the appropriate certifications and meeting specific standards of safety, salon set-up, and business practices. Groomers should be CPG and/or CAPG certified. All staff must be "Track 1" certified within 6 months in order for the Salon/mobile to become or remain IPG Approved. All staff must maintain active IPG membership which will include completing annual continuing education modules. Approved Salons/mobile units must renew their Approval each year to standard best practices.

John Paul Pet School
John Paul Pet School Graduate 600 hour program
The John Paul Pet School philosophy is about teaching the highest standard of education in grooming arts and sciences for dogs and cats in the pet care service industry, so our students learn to groom safely and humanely, while expressing their individual creativity.